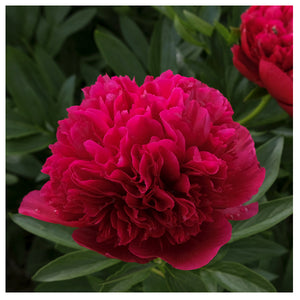 Diana Parks
Herbaceous Hybrid, Red, Double, Early-Midseason, Fragrant, 106cm, 42"

 A tall stunner of a peony, Diana Parks is a true bright ruby-red, and a real eye-catcher in the garden. She has fragrant flowers and sports flamboyantly shaggy double blooms. A great cut-flower, with long stems that may need some support.  (Bockstoce 1942). 
On hold for propagation until 2024.