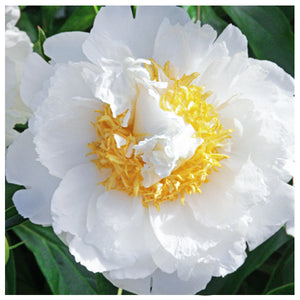 Cheddar Surprise
NEW!  Herbaceous ,Lactiflora, White, Double, Midseason, Fragrant, Bee Friendly, 70cm, 28"
A slightly off-putting name - but the wonderful surprise is that this is a simply lovely peony with a delightful lemony fragrance - not cheesy at all!  Its double white blooms have bright yellow staminodes and petaloids, making this a sunny, cheery flower. Sturdy stems, nice foliage and it produces pollen and sets seeds. An excellent cut flower, this could end up being another of our favourites.
  (R G Klehm, USA 1980). 
On hold for propagation until 2024.