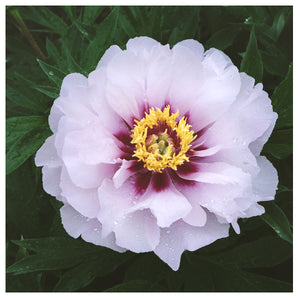 Cora Louise
Itoh, White-Lavender, Semi-Double, Midseason, Fragrant, 60cm, 28"
Cora Louise is one of our favourite Itohs. It has extremely beautiful white flowers with lavender to purple central flares. Slightly fragrant, compact and well-behaved, this charmer is a wonderful addition to the garden.  Like most Itohs it tolerates a bit of shade too.  (R. Anderson, 1986)
On hold for propagation until 2024.