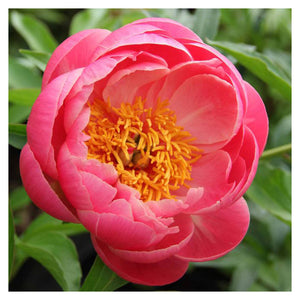 Coral Sunset
Herbaceous Hybrid, Coral, Semi-Double, Early, Lightly Fragrant, Award Winner, 91cm, 36"
One of our all-time favourites, Coral Sunset is the most fragrant of all the coral peonies, but not everyone finds its slightly musty scent appealing. Its multi-petaled, wide open flowers are outstanding in form, blooming a rich deep salmon and maturing to a golden cream. Strong and upright, this lovely plant needs no support and blooms early.  Good cut flower too. American Peony Society Gold Medal 2003, Award of Landscape Merit 2009.  (Wissing 1965)
On hold for propagation until 2024.