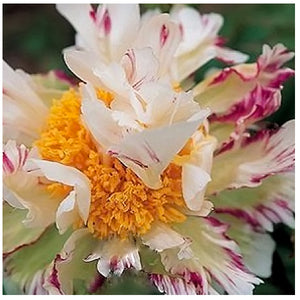 Crazy Daisy
NEW! Herbaceous, Lactiflora, White-Multi, Single, Early, Fragrant, Bee Friendly,  85cm, 36"
We

'

re excited to try out this highly recommended peony introduced by Roy Klehm.  A kissing cousin of Pink Luau and Green Lotus, (which are unfortunately not available this year) Crazy Daisy produces whimsical, cactus-dahlia type flowers with irregular white petals featuring lime green bases and pretty raspberry streaks.  Quick growing and floriferous, it also produces pollen and occasionally sidebuds. 
Mildly fragrant, with strong stems. 
(Roy G. Klehm,  1995)
On hold for propagation until 2025.