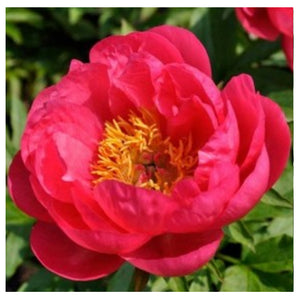 Cytherea
Herbaceous Hybrid, Pink, Semi-Double, Early-Midseason, Award Winner, 70cm, 28"
With flowers that are a rare and radiant shade of cherry pink, these peonies will certainly add some zip to your garden! Another sturdy beauty that will stand up no matter the weather, this is also an amazing cut flower. American Peony Society Best in Show - Grand Champion 1970 & 1983 plus Award of Landscape Merit 2009 and American Peony Society Gold Medal 1980.  (Saunders 1953)
On hold for propagation until 2024.