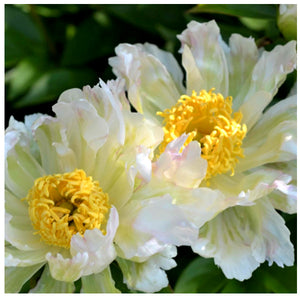 Green Lotus
Herbaceous, Lactiflora, White, Single, Early, Fragrant, Bee Friendly, 70cm, 28"
We're calling this peony white, but it should actually be described as multi-coloured - with pink highlights and lime green streaking on its flowers.  Boasting 4-5 inch cactus Dahlia type blooms, it has wildly crimped and curvaceous petals which make its blossoms most unusual. Green Lotus is a really excellent and arresting cut flower. In the right spot this peony will make quite a statement in your perennial bed. 
Mildly fragrant too. 
 Cuts well, produces pollen and seeds. Needs no support. 
(William Krekler-Roy G. Klehm, USA, 1995).
On hold for propagation until 2024.