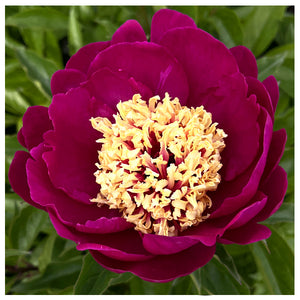 Karen Gray
NEW!! Herbaceous, Lactiflora, Red,  Japanese, Midseason,  Bee Friendly, 80cm, 32"
This is a bright and cheerful peony with wine-red petals surrounding a sunny mass of petaloids. Karen Gray is a very prolific bloomer which resembles a more petite Sword Dance. Its colour provides a really nice accent in the garden and it is a very well-behaved plant. Highly recommended by experienced peony growers. (Krekler, USA, 1965). 
On hold for propagation until 2024.