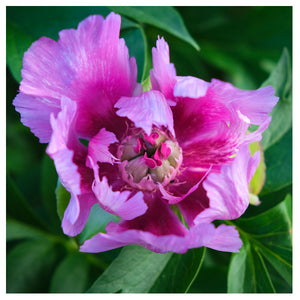 Little Darlin'
Itoh, Lavender Pink, Semi-Double, Midseason, Favourite, 55cm, 24" 
Little Darlin's cup-shaped flowers are a very pretty, clear lavender-pink with smashing dark purple flares. It's lighter than it looks here. You'll find it a vigorous, reliable grower that has handsome dark green leaves and lots of 3-4" blooms held up above its foliage on very strong stems.  Long-blooming and more compact than a lot of Itohs. Does extremely well in the field and with a bit of afternoon shade the foliage stays attractive until late fall. One of my favourites. (Roger F. Anderson, 1986)
  On hold for propagation until 2024.