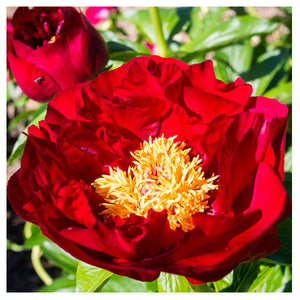 Mackinac Grand
Herbaceous, Red, Semi-Double, Early-Midseason, Fragrant, Award Winner, Bee Friendly, 90cm, 36"
A superb cut flower, and a star in the landscape, this multiple award winner has tons of blooms that will shine in your garden.  Each large blossom has three to four rows of gorgeous ruffled petals that are brilliant, deep, bright true red. This fragrant peony is a real eye-catcher. Produces pollen and attractive seed pods (with fertile seeds) too. Needs no support. Often listed as The Mackinac Grand. Award of Landscape Merit 2012, American Peony Society Gold Medal 2013. (D.L. Reath, 1992)
  On hold for propagation until 2024.