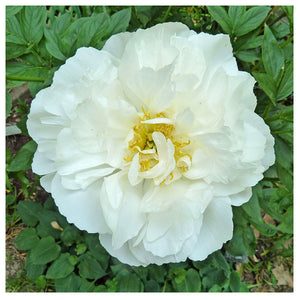 Miss America
Herbaceous, Lactiflora, White/Blush, Semi-Double, Early-Midseason,  Award Winner, 90cm, 36"
One of our favourites, this beauty contest winner has been around for a while, scooping up awards and enhancing flower beds for 80 years. Blooming the very palest of blush pinks and maturing to glowing white, Miss America has lots of side buds and attractive foliage. An excellent cut flower with strong stems, this plant is described as "a peony of the highest quality."     American Peony Society Best in Show - Grand Champion 1980 & Gold Medal 1956. (Mann-van Steen 1936)
  On hold for propagation until 2024.