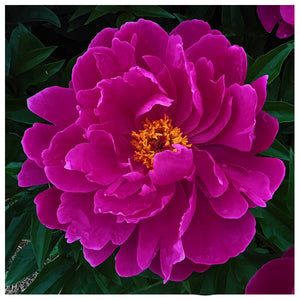 Nice Gal
NEW!! Herbaceous, Lactiflora,  Pink, Semi-Double, Midseason, Fragrant,  Award Winner, 70cm, 28"
 Nice Gal is a striking flower in the garden. Its semi-double flowers are a bright, almost fuschia pink, with silver-frosted edges on its petals. It has a slightly flat flower form with lots of side buds, which are borne just atop its healthy green foliage, forming a pleasing "blanket of colour" according to the American Peony Society.  This award-winning cultivar should stand up to whatever weather is thrown at it. Reliably heat resistant once established. APS Award of Landscape merit 2009. (Krekler, USA, 1965)
  On hold for propagation until 2025.