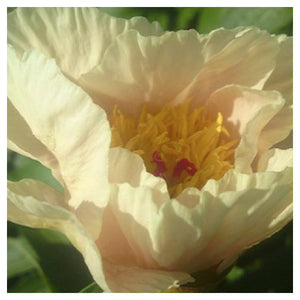 Roselette's Child
Herbaceous, Pink, Single, Very Early, Bee Friendly, 70cm, 28"
Sporting very pale apricot-cream flowers, Roselette's Child is purported to be a cross between mlokosewitschii, tenuifolia and lactiflora.  A very early bloomer, like its parent Roselette, this hard-to-find peony is another of  Professor A. P. Saunders' fabulous hybrids.  Sought after because of its parentage, this fertile peony is desirable in its own right as a sweetly pale peach-coloured single with a gorgeous golden centre. (Saunders, USA 1967)
 On hold for propagation until 2024.