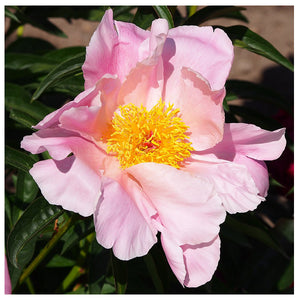 Seashell
Herbaceous, Lactiflora, Pink, Single, Late-Midseason, Fragrant, Bee Friendly, Award Winner, 110cm, 40"


Tall and very floriferous, we think Seashell is one of the best pink singles around.  Its large flowers have light bright pink petals surrounding masses of yellow stamens - held up above its foliage on strong stems. Other assets include a light fragrance and lots of side buds to prolong the bloom. Stood up well during some very rough weather in past years. Produces pollen and seeds. APS Gold Medal, 1990. (Sass, 1937).
 On hold for propagation until 2024.