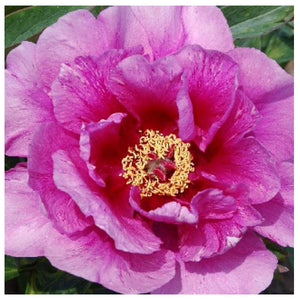 Sonoma Amethyst
Itoh, Lavender, Semi-Double, Midseason, 85cm, 34"
We've had great success with the Sonoma series of Itohs - they stand up to just about any kind of weather including late frost, heat and humidity. This one has deep lavender semi-double flowers with yellow stamens, green stigmas and red carpels at their centres. Wow! The usual well-behaved Itoh growth habit.  (Tolomeo 2001).
 On hold for propagation until 2025.