*Important notice to customers* We will be closed in 2023 while we rebuild stock and propagate new varieties. Our refreshed catalogue will open in 2024. Thank you all for a wonderful season!
We specialize in Herbaceous and Itoh peonies. All orders are shipped in October at the ideal time to plant. You will receive bare root plants guaranteed to have 3 to 5 eyes.


Sorry, we don't sell tree peonies. And at the present time we do not sell cut flowers. The Farm is not open for visits.
About us...
Caledon Hills Peony Farm is situated on the grounds of a historic landmark property in the rolling hills of Caledon Ontario. In 2017 we began planting peonies in the former orchards ... follow our progress on Instagram or Facebook .
Welcome Peony Fans!
A new year is here and we look forward to working with you to find the peonies that you love. Last year was very intense, and as a small family-operated farm, we, and many other growers, were overwhelmed by the number of orders.  We thought about expanding, but we decided we'd rather keep things the way they are … we're not perfect by any means, but if we stay small, we'll still be able to offer the level of care and service that our clients deserve.
So as a result, you'll find that a number of our varieties have been put on hold for propagation and won't be available this year. And many varieties will only have limited quantities available.
If you have any questions please contact us at: caledonhillspeonyfarm@gmail.com.
Thank you!
Diana and Tessa at Caledon Hills
THERE ARE NO OPEN DAYS OR FARM VISITS PLANNED FOR 2022.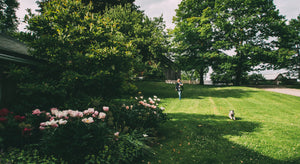 ORDERS, SHIPPING AND REFUNDS
Before you place an order, please read these conditions

All peonies are delivered bare root in October, never in the spring. All prices and inventories are subject to change without prior notification. If for some reason we cannot supply a plant that you have ordered and paid for, we will supply a full refund. HST will be calculated and added at check out. Order cancellations: Orders cancelled or altered will incur a 10% restocking/administrative fee. Peony orders cancelled after August 1, will incur a 35% restocking/administrative fee. No refunds or changes to orders after September 1. Local Pick Up will no longer be available. All orders will be shipped.